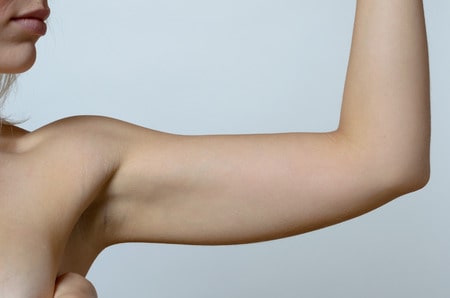 Lawrence County plastic surgeons want you to know that you don't have to just accept flabby upper arms. At Advanced Liposuction Center, a complaint we hear frequently from our clients is that even though they have put in the time and effort to lose weight, they still have unsightly upper arms with loose skin and "bat wings." This then prevents them from being comfortable in sleeveless styles. However, you can still get rid of that loose skin. It's through a simple procedure called brachioplasty or, as we like to call it, an arm lift.
Below are some frequently asked questions about this procedure:
Q: How is the brachioplasty procedure performed?
A: During brachioplasty, unwanted fat is removed from the upper arm (which, by the way, can be used in a fat transfer to add volume to another part of your body, if you wish). After the fat has been removed, the skin is then pulled downwards to tighten around the arm and then the incision is stitched in the armpit area.
Q: What type of anesthesia is used?
A: Brachioplasty is done with local anesthesia. The entire procedure takes approximately two hours.
Q: Is the procedure painful?
A: Patients who have had brachioplasty say they experienced mild to moderate discomfort after surgery. Usually, you'll be able to return to all normal activities within one week of the surgery.
Q: What about scarring?
A: The size of the scar is quite small and thus not very visible as it is in the armpit area. If you feel it is too noticeable, we offer several options available for reducing the appearance of scars.
Q: Is there anyone who is not a good candidate for brachioplasty?
A: Generally, men and women in good overall health should be able to have a brachioplasty. However, patients who have had lymph nodes removed, had a mastectomy, sweat excessively or are prone to underarm infections may not be able to have brachioplasty.
Is brachioplasty right for you? There's only one way to find out. Make an appointment at one of our Pittsburgh area offices by calling 724-683-7581. Then, come in for your free consultation. One of our expert plastic surgeons will meet with you and discuss your appearance goals and which procedures are right for you.